Air conditioning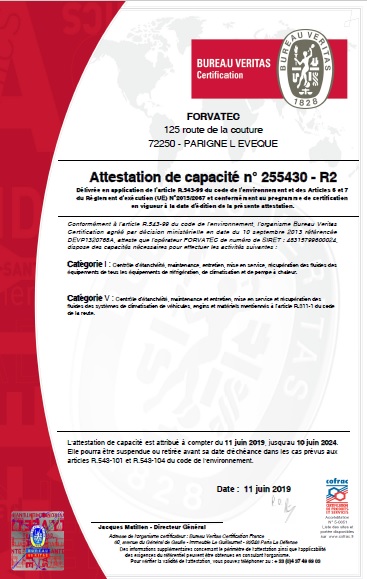 FORVATEC holds* a COMPETENCY CERTIFICATE for handling refrigerants issued by Bureau Veritas Certification under reference 255430.
Our training courses cover the following aspects :
Maintenance and diagnostics of air conditioning systems.
Preparation for the Cat.I, Cat.V and Cat.V-VHU aptitude test.
FORVATEC has also been declared* an ASSESSMENT BODY for the awarding of aptitude certificates* :
Cat.V accreditation.
Cat.V-VHU accreditation.
*only in France
Elec. accred. – Elec. and Hybrid Veh.
Elec. accreditation – Garage equipment